Stunning Ideas For Things To Put Stickers On in 2023
Who doesn't love stickers? We all do! You can never have too many of them. But the problem with having an enormous sticker collection is that you might get out of ideas on how to use them. Get ready to know Things to put stickers on.
Stickers come in different shapes, sizes, colors, and designs. You can use them to decorate and personalize just about anything. They're eye-catching and vibrant and let you add flavor to your belongings. You can use them for much more than just sticking them on your scrapbooks and phone cases. Find some exciting sticker decorating ideas below.
What to Put Stickers on?
There are so many things that you can put stickers on! Laptops, water bottles, notebooks, cars, and more. If you're feeling crafty, you can even make your own stickers. For this, you just need sticker paper and a sticker printer. Simply print out whatever design you want onto the sticker sheet, and then cut them out. You've got your very own custom stickers.
after acquiring the stickers, Some people like to put their stickers on things that they know will be seen by a lot of people.
Check out the best things to put stickers on:
A Sticker Wall
Do you have an empty wall in your home or office that feels dull and boring? You can decorate it with stickers and bring life to it. Custom-made stickers in large sizes are also available on the market. These cover a large portion of the wall and look absolutely stunning.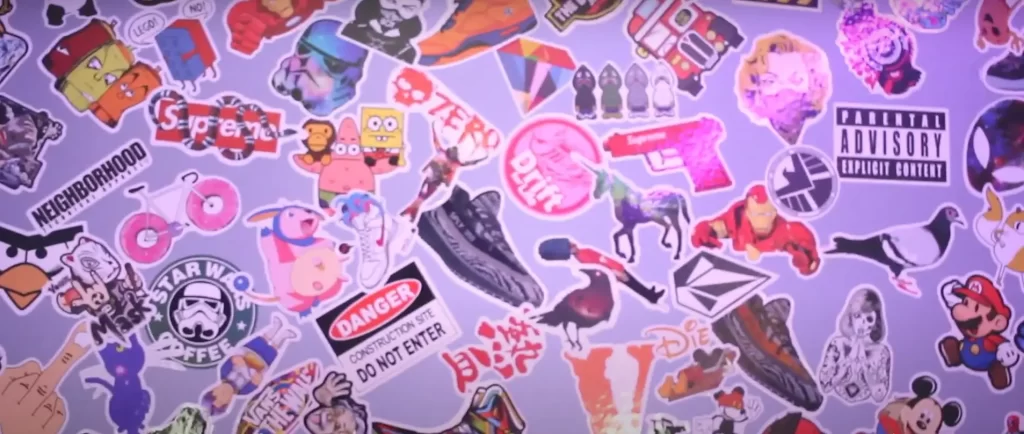 DIY Fridge Magnets
You can create your DIY magnets with stickers. All you need is some stickers and magnet paper. Stick your stickers onto the magnet paper sheet, and voila! Your DIY fridge magnets are ready.
Sporting Goods
Sticking stickers to your sports goods is a good idea. You can personalize your athletic gear and tell your stuff apart. There are several objects you can attach stickers to, such as:
skateboard
surfboard
baseball bat
treadmill
weights
duffel bags
dumbbell
helmets
water bottles
Furniture
Stickers can significantly transform your living space. You can revamp your old, outdated furniture by sticking colorful, bright stickers to them. They are cheaper than paints, are mess-free, and instantly freshen up the entire look of a room. Choose stickers that reflect your personality and interests and spice up your plain, washed-out furniture.
Kids bedroom windows
Coffee tables
Mirrors
Bookshelves
Photo frames
Work desks
Doors
Closets
Lamps
Chairs
Nightstands
TV and gaming consoles
Check This: Get Your Custom Stickers
Electronics & Appliances
Electronic items and appliances do not have to be plain and boring. Stickers can add colors and bring elegance to almost everything in your house. You can also use stickers supporting and creating awareness for a cause or motivational quotes. Make sure you do not place stickers on areas of your device that might interfere with its performance. For instance, you should never put a sticker on your laptop trackpad or touch screen. Take a look at some pictures and ideas to get inspiration and start accessorizing your appliances and electronics right away!
Headphones
Speakers
Remote controls and joysticks
Polaroid cameras
Computer monitors
TVs
Printers 
Security cameras
MP3 players
Microwave
Vacuum cleaners
WIFI router
Coffee machine
Scrapbooks & Sticker Books
It might sound cliché, but there is no better object for putting stickers than a sticker scrapbook. You can save memories as photos and stickers that you can cherish forever. Another good option is to make a sticker book to preserve your stickers. You can stick your stickers to its pages and peel them off later when you need to use them.
Personal Belongings
Think of how you can add a personal touch to your possessions and day-to-day objects. You can exhibit your creativity and aesthetic sense by decorating your personal belongings. A sticker could make any plain, humdrum thing attractive and fun. Making your everyday objects eye-catching will help lift your mood when you are tired of performing monotonous chores.
Stickers with motivational quotes could also enhance productivity and boost self-confidence. It will also help you mark objects if you do not want someone else to use them mistakenly. You can use a few stickers or sticker bomb the whole thing; the sky is the limit! Remember to ensure that you choose an item that has a surface that can hold the stickers, and you can remove them without hassle when you need to. Some everyday objects that we sure love sticking stickers on are as follows:
Laptop and laptop cases
Cell phone cases
Tablets
File folders
Guitar, drum, or other musical instruments
Wallet
CDs and DVDs
Books and bookmarks
Lockers
Jewelry box
Makeup bag
Helmet
Desktop computers
Whiteboards
Alarm clock
Vehicles
If you want to add character to your vehicles, stickers can be an excellent source. Vinyl stickers are perfect for automobiles as they are waterproof and survive harsh weather conditions. You can paste stickers on your cars, trucks, motorbikes, and bicycles. Car bumper stickers are safer and more practical as they serve the purpose without causing a disturbance and obstructing the view. You can also apply stickers high on the windshield and back windows.
Stationary
The best way of displaying your sticker collection is to put them on stationery items. Working becomes more convenient and fun when you have vibrant images, patterns, or designs on the stationary. Stickers are a fun and easy way to organize your stationery items. A sticker on a book, for example, makes it much easier to spot the book stuffed with several other things in a locker or on your desk. Here's a list of things you can spruce up with stickers:
Diaries and journals
Planners
Notebooks and calendars
Clipboard
Plastic folders and binders
Pencil and pen holder
Letters
Kitchen & Household
Stickers are cheap and easy to use, with unlimited ways to change your space- making it feel fresh! You can personalize several things at your home and kitchen with them. Stickers will give your dull, plain kitchens some color, personality, and life. They also keep your kitchen organized if you label or color code different objects. You can design and print your stickers at home. It gives you control over how you want your labels and stickers to look and allows you to be as creative as you like. Let's look at some household and kitchen items that could use stickers.
Food containers
Pot plants
Storage boxes
Mugs, cups, and tumblers
Cookie and spice jars
Bottles and glasses
Kitchen cabinets and drawers
Tool kit
Trash can
Filing cabinet
Serving trays
Zipper storage bags
Travel Accessories
The best way to showcase your sticker collection is to paste them on travel gear and flaunt your personal style and distinctive personality everywhere you go. Stickers will make your luggage look more glamorous. Also, having personalized stickers on your stuff makes it unique and easily identifiable. You can quickly spot your belongings at airports, beaches, etc. If there's a cause you deeply believe in, share the message and spread awareness by pasting custom-made stickers on your travel accessories
Following are our favorite objects to put stickers on:
Hydro flasks
Lunchbox
Suitcase
Travel bag
Backpack
Coolers
Power bank
Strollers
Camping tents
Passport cover
Party Décor
Stickers are one of our favorite things for themed birthday and party décor. Not only will you have fun creating custom stickers for your party, but the guests will also love them- kids or adults. You can also design stickers for your party giveaways and presents. It ensures that your guests will always have a sweet memory of your event. You can also paste your stickers on invitation cards, gift tags, thank you notes, etc.
Final Words
Contrary to popular belief, stickers are not just for kids. Stickers are an expression of your creativity, personality, and individuality. Everyone loves them, and the possibilities with them are unlimited. From the bumpers of your cars to the jars in your pantry, you can paste stickers to any blank space or object you can think of. You can make excellent crafting projects with stickers, like Christmas ornaments, sticker magnets, and even Valentine's Day cards.
We hope that the ideas we shared are beneficial for you. Remember to use high-quality stickers as cheaper stickers would be a hassle to remove and may damage the surfaces by leaving behind residue.
I am Mason, a Team Leader & Writer, a proactive and collaborative individual who works closely with my team to achieve shared goals. I am skilled in managing projects and am able to lead my team to success by setting clear expectations, providing guidance and feedback, and fostering a positive and productive work environment. I have a deep understanding of printers, sticker printers, label makers, sublimation, and craft markets, and use my knowledge to produce high-quality content that is both informative and trusted for the readers.