How to Make Custom Stickers at Home 2023 (An Easy Guide )
If you think the only purpose of stickers is to decorate the toy and bookshelves for your kids, think again! Stickers are an excellent form of conveying your message. Whether you are writing a heartfelt note for a friend or creating labels to promote your small business, vibrant-looking stickers can have a significant impact and reflect your idea, story, or emotion in a conspicuous way. You may think that you need to hire a designer to design your stickers or go to a sticker studio to get them printed. But, that's not the case. Learn about how to make custom stickers here in this post.
With appropriate equipment, media, and supplies, you can make custom and trendy stickers at home and add color to your scrapbooks or make your product steal the spotlight in the market. Continue reading to discover how to create eye-catching, professional-looking stickers on your own in a few steps.
How To Make Custom Stickers At Home
Before you start making your stickers, identify what type of stickers you want to make and how you will use them. Are you printing labels for spice jars or making personalized cards for your gift wraps? Or, you will need stickers to advertise your business. The use of these stickers is pretty diverse. You can use them for:
Making wall decorative or themed birthday party decor.
Label for shelves, cabinets, or bottles.
To print your brand logo and promote your business.
Decorate laptops, mobile phones, cars, notebooks, or refrigerators.
Understanding the type of stickers you need to make would help you acquire the material in accordance with them. You can either make kiss-cut stickers (peel and paste sheets) or die-cut stickers (individual). The sticker-making process involves four steps. Design, print, cut, and laminate. The supplies you need to make stickers are as follows:
A paper trimmer or scissors, or a sticker cutting machine
Laminating sheets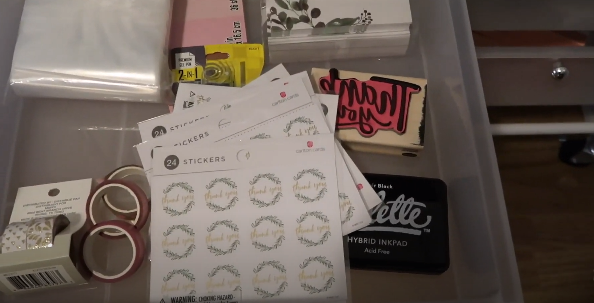 Design Your Custom and Trendy Stickers
You can design your stickers with design software like Photoshop or Canva. You can also sketch your stickers by hand using whatever drawing materials you prefer. You may also save images from Google, Pinterest, etc., and make stickers out of them. If you own a sticker printer, you may have access to design templates that you can customize. Be as creative and imaginative as you want while designing your stickers.
Use glitter to decorate them. You can scan your handmade drawings or photos with a scanner printer or use sticker paper with a matte surface that you can write and draw on. You can also make plain text stickers if you like your stickers simple. The advantage of making your own stickers is that you can design them as per your liking. Let your imagination run wild and style them however you want.
Be Mindful of a Few Factors Before Printing Your Stickers
Print your sticker once you finalize the design or image. Be mindful of a few factors before printing your stickers to ensure your stickers are top-notch and you do not waste resources and supplies while making them. Appropriate supplies secure the stickers will not fade quickly or damage the surface to which they are attached.
Choose quality printable sticker paper and a sticker printing machine for best results. You can select from matte or glossy sticker papers depending on your liking or how strong and long-lasting you want your stickers to be. For making stickers for personal, at-home use, copy paper sticker paper will do the job. But for a premium finish and weather-resistant stickers, you will need printable vinyl sticker paper. It is also critical to ensure that the paper you choose is compatible with your printing and cutting machines.
You can adjust your printer settings as per your sticker paper material. Selecting the correct material on the dial is very important. Specifically when you are working with glossy white vinyl sticker paper. Increase the print resolution to get high-quality stickers. Try to place multiple stickers on a sheet but make sure you leave enough space between them for smooth and precise cutting. Print the first sheet as a sample to assess the print quality and vividness of the stickers. Print more sheets if the stickers have your desired print quality and brilliance.
How to Print Custom Stickers at Home?
Power on your sticker printer.
Print a sample sheet on regular paper to validate that everything is in order. If your stickers are up to the mark, you can print them on sticker paper sheets.
If you are feeding multiple sheets into the machine, fan them out. So they are not stuck to each other. Try to keep the number of sheets lower than twenty-five. 
Check for any curls or wrinkles on the sheets while feeding them in the tray to maintain print quality and prevent your printer from jamming.
The sticker side should be facing down for inkjet printers and facing up for laser printers. Your laser printer might have a priority feed slot. In that case, make sure you put one sticker paper sheet at a time.
Adjust your printer settings according to your sticker paper material.
You are now ready to print your stickers. Look out for any errors on the first sheet. Suspend the print job if you see any misalignment or misprints. Amend the design and then resume printing.
Cut Your Stickers
Cut your stickers when you have finished printing them. If you are a craft enthusiast, you may have cutting mat and an X-acto knife, or a sophisticated cutting machine, at your disposal. Cut your stickers carefully around the edges. Make sure you cut the stickers evenly and do not leave a lot of white area around the image. You may cut thicker sticker papers with more precision if you have an advanced electronic cutting machine like Cricut or Silhouette.
Laminate Your Stickers
We suggest you use laminating sheets if you are not already using waterproof and weather-resistant sticker paper and need to apply your stickers outdoors. It will make your stickers durable, scratch-proof, and impermeable. Laminating sheets come in different surface textures like matte or glossy, etc., and include adhesive on one side. You may find using these sheets complicated. In that case, you can use a UV-resistant spray to make your stickers withstand harsh weather conditions.
You can make your stickers at home with homemade glue and your regular printing device. However, you will notice that the quality of your stickers is compromised. They will not be as bright and durable as stickers made with proper sticker-making equipment and supplies. If you plan to make your stickers for long-term uses, it's important to use archival quality paper.
Secondly, you should keep what kind of adhesive to use for the stickers in mind. It should be water-resistant and durable enough for outdoor applications. It is also vital that the design you select looks good and reads well and that you have an efficient sticker printing device to print it. Finally, there is no limit to what you can do with these little pieces of paper. Just think out of the box!
How Much Does It Cost to Make Custom Stickers?
It can be tough to get an accurate estimate without knowing all the details about your project. I'll give you a general idea of how much it costs to make custom stickers, as well as some factors that will affect the final price.
The cost of making custom stickers depends on a few things:
The size of the sticker
The number of colors in the design
The number of stickers
Whether you need a die-cut or not
Sticker Printer
Sticker Cutting Machine
Sticker Paper
Other Supplies
Go Here to get Custom Stickers: Custom Stickers
The Size of Sticker
The size of the sticker is probably the most important factor in determining cost. The smaller the sticker, the less it will cost to make. That's because you can fit more stickers on a sheet of paper, and waste less material overall.
The Number of Colors
The number of colors in your design also affects how much it will cost to make your custom stickers. The more colors you have, the longer it will take to print them out. And, of course, more colors means you'll need more ink!
The Number of Stickers
Obviously, the more stickers you need, the higher the cost will be. But there's a bit of a sweet spot when it comes to ordering custom stickers. If you need a lot of stickers, you can usually get a discount from the printer. The best printers for generating more stickers are Canon Printers and Epson Sticker printers.
The Die-Cut
A die-cut is a special kind of cut that allows your sticker to be any shape you want, instead of just a square or rectangle. Die-cuts are more expensive than regular cuts, but they definitely add a touch of flair to your design. They are available at the price of $0.35 per sticker.
Sticker Printer
The type of printer you use will also affect the cost of making custom stickers. If you're using a professional printing service, they'll obviously charge more than if you're printing them out at home on your personal printer. They are available @ Office Depot, Staples, Amazon & Walmart. The price range is $70-$200 or above.
Sticker Cutting Machine
If you're making a die-cut sticker, you'll need to use a cutting machine. These can be rented from most office supply stores, or you can purchase your own if you plan on making a lot of stickers at home or office. Their prices start from $100 and up.
Sticker Paper
The paper you print your stickers on also makes a difference in how much they cost. There are all kinds of sticker papers available, from cheap options to more expensive premium papers. Their Prices range from $0.01 to $0.03 per square inch
Other Supplies
Finally, you'll need to factor in the cost of other supplies like ink, glue, tape, shipping, and taxes. These can all add up, so be sure to take them into account when estimating the cost of your project.
As you can see, there are a lot of factors that go into how much it costs to make custom stickers. You can sum up all these factors with a simple rule of thumb: the more you need, the cheaper it will be per sticker.
I hope this article has given you a better understanding of how much does it cost to make custom stickers.
I am Mason, a Team Leader & Writer, a proactive and collaborative individual who works closely with my team to achieve shared goals. I am skilled in managing projects and am able to lead my team to success by setting clear expectations, providing guidance and feedback, and fostering a positive and productive work environment. I have a deep understanding of printers, sticker printers, label makers, sublimation, and craft markets, and use my knowledge to produce high-quality content that is both informative and trusted for the readers.