How to Clean Silhouette Mat and Make it Sticky Again 2023
The silhouette cutting mat needs no introduction. It is a popular choice among crafters. You can use it for several crafting projects and work with different materials like fabric, vinyl, glitter vinyl, cardstock, leather, and more. The mat, however, can become dirty after a few uses and lose its stickiness. It can be frustrating as the leftover fibers, dust, and debris ruin the adhesive and make it difficult for the materials to stick to the mat. But do not worry; you do not have to buy a new one.
With few readily available cleaning supplies and simple-to-follow methods, you can clean your mat and extend its life. Once it is clean, you can add a fresh layer of adhesive onto it; it will be as good as new! Read more to learn how to clean silhouette mat and bring back its adhesiveness. These quick and easy processes will enable you to save money in the long run!
Cleaning Methods for the Silhouette Mat
There are five different methods you can apply to clean your smudgy, non-sticky silhouette mats: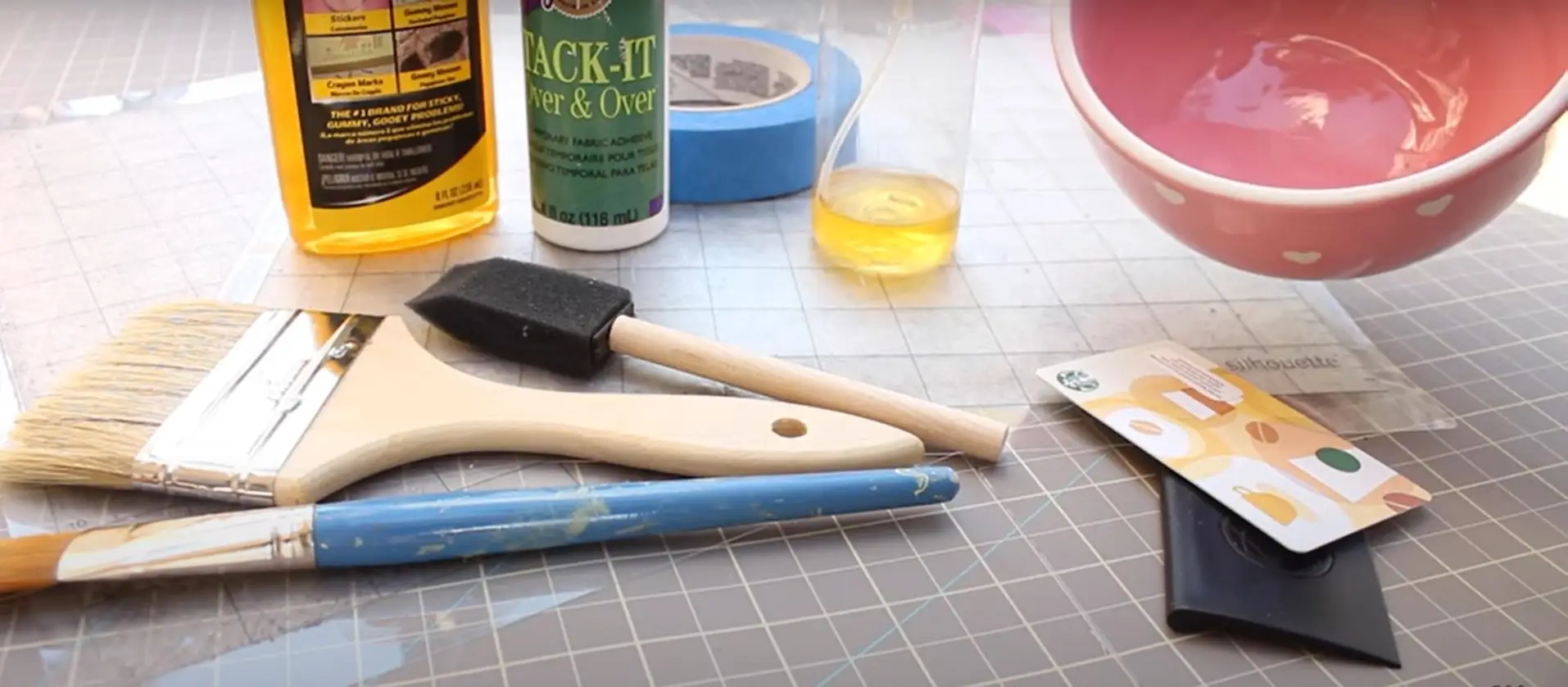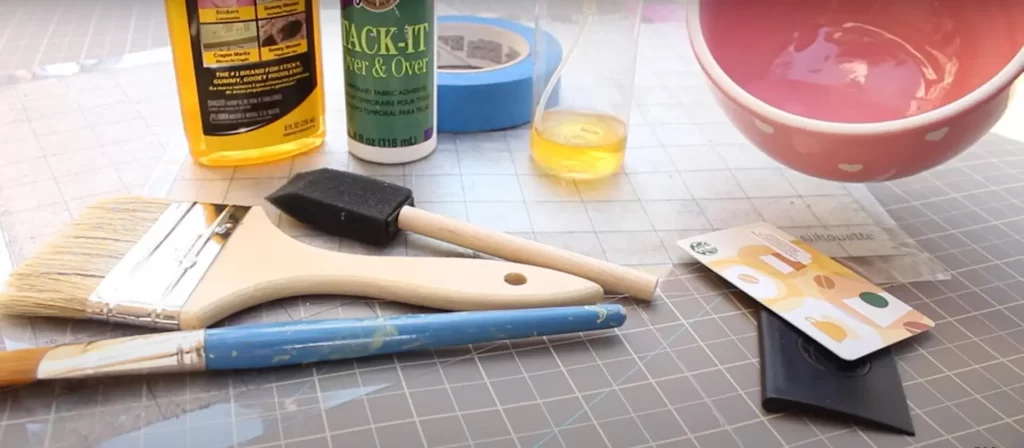 Warm water and stain remover
Adhesive remover
Lint roller
Non-alcohol-based wet wipes
Masking tape
Most of the time, the mats lose their stickiness because of the dirt. Once you clean them, they most likely gain their original state back. If they do not, you can always put a coat of adhesive and make them fit for use. Let's discuss the methods in detail!
Dish Soap and Water
This method is effective and very pocket-friendly; it does not require expensive cleaning supplies. To rejuvenate your mat with this method, you need:
Dish soap or liquid detergent
A sponge or a scrubbing brush
Warm water
A plastic scraper 
Lay your mat on a flat surface. Cover the surface with an old cloth or newspaper. Remove large particles with a tweezer or use a plastic scrapper to clear debris. Mix dish soap or detergent with warm water and scrub the mat gently with a sponge or scrubber. Avoid using boiling hot water. You will be able to remove the residue smoothly by light scrubbing. You can also give your mat a gentle washing directly in the sink. Once it is clean, rinse it with warm water, and let it air dry for a couple of hours.
Learn Also: How to clean a Cricut Mat?
Adhesive Remover
An adhesive remover like Goo Gone is excellent for cleaning the Silhouette mat. If, you have used it multiple times without scouring it between uses, this method works like magic. Lay the mat on a flat surface like a table or desk. Make sure to cover it before beginning the cleaning exercise. Pour a small amount of Goo Gone over the mat and let it rest for a few minutes. Once it settles in, wipe the residue away with a scraper or an old credit card.
You will see the dirt and debris coming off smoothly and quickly. Wash the mat thoroughly with dish soap and water and pat dry with a towel. You can repeat the process if you feel it is not clean enough. This method may reduce the stickiness; you would have to make the mat sticky again. Make sure it is dry before applying an adhesive to it. It is best to wait for at least a few hours after cleaning it before using it again.
Note: Do not apply this cleaning method frequently. If you clean your mat regularly, you wouldn't need to.
Lint Rollers
If you ever find your mat covered in glitter or fuzz, your best option is to grab a lint roller. These sticky rollers work best when cleaning fabric and felt. A lint roller effortlessly sucks all the dirt, hair, or other particles stuck to the mat. Make sure you roll both sides. A lint roller does not erase greasy residue well. After cleaning with a lint roller, wash the mat with a basic stain cleaner and water to remove the grease.
Baby Wipes
Non-alcohol-based wet baby wipes are perfect for cleaning the Silhouette mat. They are chemical-free, clean thoroughly, and keep their stickiness intact. It is the easiest cleaning method and works effectively. All you need to do is take a wet wipe and scrub gently. The baby wipe erases all the dirt and leaves a pleasant, clean surface behind.
Masking Tape
You will need something sticky to detach the dirt and debris from your mat. A masking tape would be perfect for the job. Rub the mat with a small piece of foam or a damp cloth. Now, cut a strip of the masking tape and press it onto the match. Press and lift it several times until you have covered the entire surface. The residue will stick to the tape leaving behind a clean cutting mat. Once you have finished cleaning, rinse it with warm water and let it air dry.
How to Make Silhouette Mat Sticky Again?
Cleaning the Silhouette mat often diminishes its adhesiveness. If you notice that the stickiness has reduced after cleaning and drying, you can apply a coat of adhesive to make it sticky again. There are a number of adhesive sprays you can use to revive the stickiness. Kryolan's repositionable adhesive spray is a favorite among crafters. Remember to cover the edges with tape before you apply the spray to the mat. Protecting the edges from the adhesive is critical to prevent the rollers from jamming up.
An adhesive spray has strong chemicals. Make sure you work in a well-ventilated area. Also, cover whatever surface you are working on with an old cloth or plastic sheet. Spray over the mat generously until you see a white layer of adhesive. Let it dry, and apply a second coat of the product. Peel the tape off the edges and leave the mat to air dry for a few hours before using it.
Maintenance Tips for the Silhouette Mat
To keep your cutting mats functional for as long as possible, follow these few simple tips:
Clean the mat with a baby wipe or damp paper towel after every use.
Do not pull residue off the mat with your fingers.
Make sure the mat is dry before using it. 
Use a sheet of transfer tape to cover the mat when working with materials with high fiber content like felt, leather, cardstock, construction paper, etc.
Cover the mat with a plastic sheet when not in use.
Air dry your mat after washing it. Avoid using hair dryers or towels.
Alcohol could damage your cutting mats. Always use alcohol-free cleaning products and wipes.
Use plastic scrapers or old credit cards for scrubbing. Metal scrubbers are forbidden.
Keep your mats clean and dry. Avoid touching the sticky surface a lot, and store them in a clean, dry place. 
Conclusion
A dirty cutting mat affects the performance of the Silhouette cutting machine resulting in imprecise cuts and ruined craft projects. Since silhouette cutting mats are not cheap to replace, you can keep them tidy for as long as possible by following the maintenance tips and tricks we have shared in the article. Cleaning a Silhouette mat does not require more than a few minutes and involves using cleaning supplies that every household already has.
Cleaning it regularly between uses with a lint roller or a damp cloth helps prolong their lives. Using harsh chemicals and abrasives is a strict no-no. Some craft materials might make your mat excessively dirty. If that happens, you can use the deep cleaning methods discussed above. Happy cleaning!
I am Mason, a Team Leader & Writer, a proactive and collaborative individual who works closely with my team to achieve shared goals. I am skilled in managing projects and am able to lead my team to success by setting clear expectations, providing guidance and feedback, and fostering a positive and productive work environment. I have a deep understanding of printers, sticker printers, label makers, sublimation, and craft markets, and use my knowledge to produce high-quality content that is both informative and trusted for the readers.