Canon Pixma TS6220 Review & Buying Guide for Stickers Printing 2023
Getting stickers printed from a third party brings many distresses. Firstly, the quality may not be precise to your liking, and secondly, last-minute change is next to impossible.
Therefore, modern-day home business owners and enthusiasts took up self-printing. Be it stickers or labels. However, with the trend shift, the market options also increased. Hence, making a pick difficult. Get ready for the Canon Pixma TS6220 review!
Many printers specialize in sticker printing. However, these printers are expensive and hefty and seldom make the best budget buy. But, Canon Pixma TS6220 breaks all such conventions.
It provides high-quality glossy sticker prints with amazing features like a touch screen, borderless copies, and NFC connectivity at an unbeatable price. Despite the tempting features, some things drop its buyer's ratings.
Therefore, a clear distinction is necessary. Below is a comprehensive review to help justify your final stance when you are only buying it for sticker and label printing.
Canon Pixma TS6220 Review – How Well Can It Handle Sticker Prints?
When it comes to affordable multifunctional printers, Canon's Pixma series is unbeatable. I've owned several of them and have always been pleased with their performance and reliability. The new Canon Pixma TS6220 that I will review today, is another great example of the brand's attention to detail when it comes to budget-friendly multifunctional printers for sticker printing.
The External Dimensions
Lightness is a preference, especially when buying a printer for home-based businesses. The Pixma TS6220 comes from the wireless inkjet AIO (all in one) category with an ideally compact design. Weighing about 13.5 pounds, and measuring 5.5 X 14.7 X 12.5 inches, it resembles its predecessor, the TS6210. At the same time, it is significantly lighter and sleek than other similar models. Its compact design uses minimum desk space and proves good for a home business setup.
Paper Handling Capacity
Next, the TS6220 has a paper feed capacity of 200 papers. 100 papers for each tray is sufficient for printing a good stack of stickers easily. The front tray only houses plain white papers while the rare tray stocks both glossy and smaller-sized papers.
Moreover, it also supports multiple paper sizes including the standard sticker (8.5" X 11") page and Instagram-friendly sizes.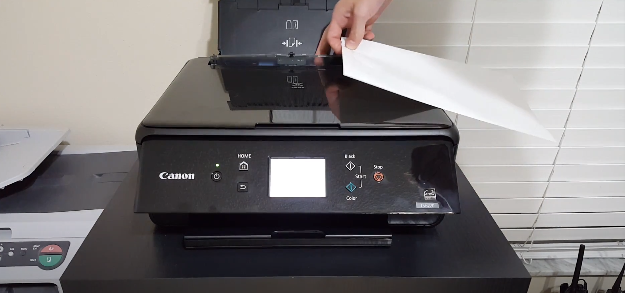 Voice Prompt Functionality
Voice activation is another useful feature the Pixma 6220 offers. It supports voice prompts like Google Assistant, IFTTT, and Amazon Alexa. Although, the manual explains some basic commands, however, for additional functions, you can visit the official IFTT site.
Multiple Editing Softwares
Let's see Pixma's most promising features. The first one is the Canon Print application. It enables you to print images, sticker patterns, and memories from cloud storage and social media.
You can customize your stickers with zero effort using The Mopria Print Service. It helps you print and adjust images using an Android smartphone. While for iPhone- users, it uses the AirPrint application. In addition to mobile connectivity, the Pixma TS 6220 features NFC end-to-end and Wi-Fi Direct connectivity as well.
Nobody likes to work the entire time. The TS6220 lets on some fun as well. You can print secret messages in your stickers using the Message in Print feature. The hidden messages reveal when scanned from a tablet or a smartphone camera. This feature comes in handy when you want to convey a message to a friend. Or, amaze customers with a hidden tagline. In addition, the EPP Editor helps customize and edit designs effortlessly.
Moreover, the built-in templates from Creative Park Premium help inspire countless beautiful sticker designs for every use.
Versatility with Different Operating Systems
There are dozens of operating systems available today. And not all printers offer the same connectivity with every OS. Poor connectivity is troublesome when every designer is using a different OS.
However, TS 6220 provides equally versatile connectivities with the different OS using the Canon Connect App. This is a rewarding feature when you need to connect the printer to different machines for reviewing a sticker or a label design.
The TS 6220 is compatible with Mac OS, Windows OS (7 onwards), and even Linux PCs. All you need to do is create the device's account in the Canon Application and get printing.
Connectivity
Often a social media post triggers a sticker idea, and you need an instant print. However, the clumsy mobile connectivity makes it hard. Luckily, the TS 6220 supports versatile connectivity for both Androids and iPhones so you can preserve your dream sticker designs instantly.
Next, the Canon PIXMA TS6220 is a Wi-Fi-enabled printer, which allows you to print from anywhere in your home as long as you have a Wi-Fi network set up. Connecting via Wi-Fi to your printer will take a little longer than if you had directly connected it to your computer using a USB cable or Ethernet. But, once the setup is complete and your computer is connected to the Canon Printers wireless network all you need to do is connect to its hotspot with your smartphone or tablet and send any documents that you want to print wirelessly.
The Front End
The front panel slides open and close. Hence, providing equal ease for standing and desk operating. A sliding panel comes in handy when you bulky stack and want to initialize the print. A 3 inches wide colored LCD lets you switch between sizes and color settings for every label design. Moreover, the ink percentages help keep track of a refill.
There are other six buttons for color selection, beginning and terminating a print session, and powering on the printer. However, unlike the competing models, the Canon Pixma TS6220 doesn't support a thumb drive or an SD slot.
Additional Features to Enhance Sticker Designing
The Canon Pixma TS6220 is a compact multifunction printer designed to help you tackle everyday printing jobs with ease. This compact, affordable and reliable device has print, copy and scan features that will make your printing needs much easier. The print speed of up to 9.9 ISO ppm (black) and 5.0 ISO ppm (color) will allow you to print large volumes at a time without compromising on quality.
An auto-duplexer allows for two-sided copies easily so you won't need to worry about making copies one page at a time any longer. It means you can scan a paper sticker, customize it using the various editing features the Canon Pixma TS6220 provides, and print it on a paper of your liking.
It not only helps you create a brand new design but also retouch your favorite sticker with some colorful sparkle.
Printing Rate and Resolution
Printing speed is an important aspect of measuring the performance of a printer. Like most Pixma printers, the TS6220 offers a ppm of 15 for monochrome pages and 10 ppm for colored prints.
When tested for a 12-paged MS office document, it showed about 12.9 ppm. This speed is much similar to its preceding model, the TS6210. Although, it's 1.1ppm and 1.2ppm faster than HP 7155 and Brother MFC-J895DW, respectively.
For graphical PowerPoint and Excel documents, the Canon Pixma TS6220 offers 4.9 ppm. However, it prints high-quality images in 22 seconds. In short, the TS 6220 offers around 22 and 3 seconds fast photo printing than HP Envy 7155 and Epson XP-7100. The best thing is that the speed stays the same for glossy and borderless stickers as well.
Stickers require higher resolutions. And, the specifically designed models require more budget. But, the Pixma TS 6220 proves equally efficient in resolution as well. It provides a DPI ratio of 4800 x 1200 for producing high-quality and detailed graphical stickers on a budget.
The Canon Pixma TS6220 is an all-in-one printer that suits your home or office settings. This printer is easy to set up and features the rewards found in other expensive models.
The Ink Cartridge
Pigmented ink prints last longer than dye-based ones. And, for stickers, durability is compulsory. Luckily, the TS6220 offers pigmented inks to print monochrome enduring stickers. Since it uses dye-based colored inks, therefore, it is unable to print long-lasting colored stickers or labels.
It comes with a versatile range of paper compatibility including matte, semi-gloss, glossy photo paper, iron-on transfers, and luster and plain papers. This versatility allows you to print a wide range of matte and glossy stickers.
In addition to Canon PIXMA TS6220 being a multifunction printer, it can be used as a scanner, and copiers too. This means that users will save a lot of space and money by purchasing one single device that they can use in different ways. As far as its paper-handling abilities are concerned, users will be glad to know that it features an input tray, which allows them to use a variety of media types.
Canon uses its proprietary ink system in a variety of printers, and it's one of our favorites as it uses pigmented inks rather than dye inks. Pigmented inks last longer and produce clearer photos, while also being safer to use around children. For most consumers looking for an everyday black-and-white printer with decent photo quality, Canon's MultiPass C5051x would make a better choice than its brother product, Canon Pixma TS6220.
Pros
User-friendly operation
Compact and lightweight
Versatile paper compatibility
Easy setup
Wireless functionality and mobile compatibility
Cons
Automatic document feeder absent
No SD / USB slot
Canon PIXMA TS6220 Review
Our Review
Specifications:
Weight and Dimensions: Closed: 14.7″ by 12.5″ by 5.5″ (WDH),Opened: 14.7″ by 14.2″ by 5.5″ (WDH),Up to 13.5 lbs
Printing Resolution:4800 x 1200 DPI
Copying speed:Around 19 seconds for the first colored copy
Printing Speed:Borderless 4 by 6" image printing in 21 sec,Monochrome: 15ppm,Colored: 10ppm
Compatible Printing Papers: Glossy, matte, and high-gloss photo printing paper, high-resolution paper, plain, luster paper, and T-shirts handovers
Print durability:30 years behind glass and 20 years without glass
Mobile Compatible Applications:EEP editor, Message In Print, Mopria Print Service, and AirPrint
Compatible software:All versions of Windows 7 and up. Mac OS v 10.10 to 10.13 and other OS like Amazon Fire as well
Others:3 inches LCD screen, auto-off and on, Bluetooth, quiet mode, and wireless connectivity
The Final Verdict
Outsourcing sticker-printing jobs are more of a hassle than a comfort. Therefore, investing in a personal printer is a worthy solution for small business owners and enthusiasts.
Fortunately, Canon did right by all hobbyists by introducing the Canon Pixma TS6220. Although, it doesn't specialize in top-quality customized sticker printing like other dedicated models. But it produces long-lasting and high-quality stickers on a budget. Moreover, the enhanced connectivity and compact design make it ideal for home business settings.
However, the absence of an automatic document feeder and costly prints make it confining. But, it's a worthy tradeoff for premium photo and sticker printing in a pocket-friendly purchase.
FAQs
What printer technology does the Canon Pixma TS6220 uses?
The Canon Pixma TS6220 is an All-in-One Inkjet printer featuring a scanner, a copier, and a top-quality printer.
How many ink cartridges does the TS 6220 offer?
The Canon Pixma TS6220 comes with five cartridges in colors like cyan, yellow, magenta, and black. A wide cartridge contains pigmented black ink for text printing.
Does Canon Pixma TS6220 support NFC?
Yes, the TS6220 supports end-to-end NFC communication that helps print wirelessly using your phone and tablet devices.
How much does Canon Pixma TS6220 cost?
The Pixma costs around 149$. Hence, making an ideal price tag for an all-purpose family printer.
What is the paper size for printing stickers?
Standardly, the size used for sticker printing is 8.5 by 11 inches.
Can printing glossy sticker paper reduce the overall print speed?
Printers Designed to support glossy papers offer the same speed as plain and lamented papers. Hence, the Pixma TS 6220 provides the same efficiency when printing glossy stickers.
I am Mason, a Team Leader & Writer, a proactive and collaborative individual who works closely with my team to achieve shared goals. I am skilled in managing projects and am able to lead my team to success by setting clear expectations, providing guidance and feedback, and fostering a positive and productive work environment. I have a deep understanding of printers, sticker printers, label makers, sublimation, and craft markets, and use my knowledge to produce high-quality content that is both informative and trusted for the readers.