Canon Pixma Pro-100 Review I Professional Sticker Printer
Inkjet photo printers are the best for producing high-quality, professional-looking photos. The Canon Pixma Pro- 100 is a dedicated photo printer for professional photographers. It is one of the best large-format photo printers in this price range. Continue reading if you are looking for "Canon Pixma Pro-100 review and printing tips with this awesome wireless inkjet printer.
The Canon Pixma Pro-100 flaunts several high-end features at an affordable price. That makes it desirable for beginners and experts alike. It is easy to set up and use, requires minimal maintenance, and produces vibrant, closer-to-life pictures.
If you are looking for a high-end photo printer that produces exceptional print quality without making a hole in your pocket, you can consider buying the Canon Pixma Pro-100. Going through this article you will know everything about the printer's performance, running costs, functionality, connectivity options, pros, and cons.
Printer Design And Specifications
The Canon Pixma Pro 100 is a first-rate printer with a sturdy build and fine finish. It is not a lightweight, small printer that you can easily carry around. It is large and heavy with 27.13 x 15.16 x 8.46 inches dimensions and 41lbs weight.
Choose Canon Pixma pro 100 if portability is not a requirement and you have sufficient space to accommodate this printer. Keeping the perfect photo printing experience in mind, the large size and heavyweight seem like a fair trade.
The printer comes with an installation guide and discs for Windows and Mac operating systems, a power cord and USB cable, a printhead, and a complete set of ink cartridges.
Pro 100 has robust input and output trays. It has an input capacity of 120 plain paper sheets and up to 20 sheets of thicker print media like photo paper. Also, there is a special tray for printing onto CDs and DVDs. The printer accumulates a single-sheet input tray for loading heavier print media such as fine-art paper into the printer.
Like all Canon Pixma Pro printers, this one offers software utilities like Print Studio, Print Studio Pro, Canon Digital Photo Professional, My Image Garden, and a few others. The Canon Pixma Pro 100 has a sleek design and intuitive controls. There are buttons for power, resume, cancel, and WIFI. All you have to do is press a button to enable a WIFI connection.
Printer Setup
The installation process for Pro 100 is simple. Use the USB cord to connect the printer with a computer and install the driver. We suggest downloading these from Canon's PIXMA Pro-100 download page instead of the CD drives coming with the printer. Installing utilities like Canon's Print Studio Pro plugin is optional, but we recommend you do it. It works for both Photoshop and Lightroom and significantly helps enhance the quality of your print results.
Installing the driver and other software utilities might take around twenty minutes. The print head and ink cartridge installation process is quicker and would only take a couple of minutes. The LED light on the printer will indicate whether or not you have installed the ink cartridge correctly. It lights up green on correct and red on wrong installation. The printer might take a few more minutes to prime and head alignment.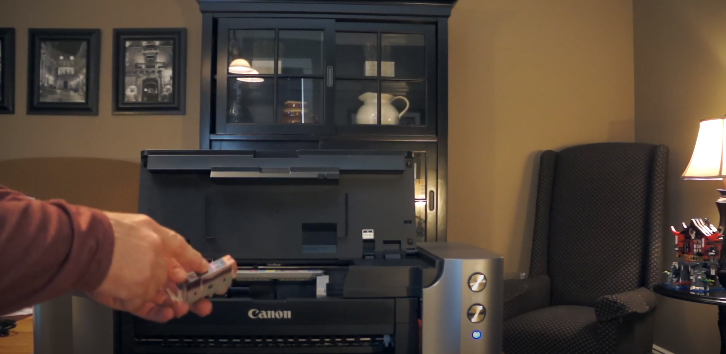 Print Performance
The Canon Pixma Pro 100 produces excellent prints in different sizes, from smaller 4 x 6 to larger 13 x 19-inch images. It prints rich A3 photos and stickers with stunning details and accuracy. The printer has a high resolution of 4800 x 2400, perfect for printing photos worth showcasing in a gallery. The high print quality is ideal for creating top-tier stickers that you can sell on Etsy.
The printer has eight ink tanks and uses dye-based inks to generate premium quality outputs. The ink colors it uses are gray, light gray, magenta, yellow, cyan, black, photo cyan, and photo magenta.
The Canon Pixma Pro 100 is an exclusive photo printer. But, we also tried printing text documents. To our surprise, the quality was above average for an inkjet printer. The printer can produce decent prints with crisp text and fonts. We did, however, spot a bare hint of tint in monochrome photo prints. The image quality is not as good on darker backgrounds.
The graphic quality is good, except for minor discoloration on a few illustrations. The printer has an optimum image-generating system. It analyses the photo color and prints using just the right amount of ink for uniform glossiness, no matter what printing mode or media type you have chosen.
Overall, the print quality is outstanding. You may not get a print output of this quality from another printer available at this price.
Print Speed
Typically, inkjet photo printers have a slow print speed due to their high-resolution print quality. The Canon Pixma Pro 100 can print up to three 8.5 "x 11" photo paper sheets in a minute. It is a slower printer that generates a 4in x 6in the photo in about a hundred seconds. You will get a full-page photo in approximately two hundred seconds.
If you prefer print speed over quality, the Pro 100 might not suit you. But, if you need a professional-grade printer for printing the finest quality images, and print speed is not your foremost concern, look no further and add it to your cart.
Running Costs
The Canon Pixma Pro 100 is an economical printer that offers exceptional print performance like expensive, high-end printers at an unbelievably low price. It is also quite efficient when it comes to operational costs. The printer comes with a complete ink set that will last for a while.
The printer has separate CLI 42 ink tanks for individual inks. You can save money considerably as you only need to replace the cartridge running out of ink. The ink cartridges, however, are costly. A single ink cartridge by Canon costs $17, whereas a whole ink set of eight cartridges costs more than a hundred dollars. You can print up to thirty-five large 13×19" photos before having to replace the cartridge. The cost of an A3+ print with Canon ink and Canon paper is around $4.5. For black and white printouts, the cost per print is $2.5. One cartridge can produce about seventy monochrome images or documents.
You can reduce some operational costs by switching to good-quality third-party inks. Precision colors' exclusive ink for Pixma Pro 100 is a cheaper option. It is known to work well with the printer and produces high-quality images. But, if you are a professional photographer that does not want to compromise the quality of the images, we recommend you use the manufacturer's ink.
Connectivity
Pro 100 features several advanced connectivity options; network connectivity features include Ethernet and WIFI, and you can also connect your device to the printer via USB connection. The printer is also compatible with AirPrint. You can wirelessly print from your iPhone or iPad. It comes with PictBridge support for printing images directly from the cameras. The Canon Easy-PhotoPrint app allows printing photos from your android devices.
An issue, however, with the WIFI on this printer is that it does not get updates to the device. You will have to plug the printer into a computer through a USB cable to get updates.
Media Compatibility
The Canon Pixma Pro 100 is compatible with a variety of print media. You can print on glossy photo paper, semi-gloss photo paper, satin, matte, and semi-matte photo, and fine-art paper. In addition, the printer has CD printing capabilities and comes with a dedicated disc tray. Remember to make sure that you have specialty DVD or CD media coating for inkjet printing. It does not support printing on canvas, but you can use canvas paper up to 20 mil. This large-format photo printer is perfect for printing up to 13 inches wide and 19 inches long borderless photos.
Warranty And Customer Support
The printer comes with a one-year warranty. Canon's customer support team is quite efficient and responsive. You can reach out to them through phone, email, or live chat on Canon's website. There is plenty of help and technical assistance available online on different platforms where you can post your queries and seek help from the support personnel. Also, you can read the user manual and FAQs on Canon's website. Troubleshooting guides are also available on different online forums, though you may not need them, as installing and using the printer is pretty smooth and easy.
Sticker Printing Capability of Canon Pixma Pro-100
The Canon Pixma Pro 100 is a dedicated inkjet printer for photo printing and crafting. It is highly appropriate for printing professional quality stickers as it is compatible with glossy and matte sticker paper. Professional sticker makers recommend Pro 100 for printing durable, excellent-quality stickers. Its eight-dye-based ink system, high print resolution, and compatibility with a wide color gamut allow the creation of sticker designs with bright, radiant colors and excellent color accuracy.
Pros
4800×2400 dpi print resolution.
It produces decent quality monochrome prints.
It prints excellent borderless photos of up to 13 x 19 inches.
Wireless connectivity.
Capable of printing on printable discs.
The printer allows printing directly from mobile devices.
Airprint compatible.
Cons
Lacks LCD.
Canon ink cartridges are expensive.
The initial installation process is lengthy.
The print head may get clogged when used for long period.
05 Printing Tips with Canon Pixma Pro-100 Wireless Inkjet Printer
When printing with a Canon Pixma Pro-100, the best inkjet wireless printer, there are a few tips to keep in mind for the best results. We will go over five of the most important printing tips to help you get the most out of your printer.
Print Often
Clean the Printer Heads Regularly
Use High-Quality Paper
Choose the Right Settings
Store your Printer Properly
Tip 1: Print Often
One of the best ways to keep your printer in good condition is to print often. This will help keep the ink flowing and prevent any build-up that can cause printing problems.
Tip 2: Clean the Printer Heads Regularly
It is also important to clean the printer heads on a regular basis. You can do this by printing a nozzle check pattern. This will help to ensure that the printer is printing correctly and with the best quality.
Tip 3: Use High-Quality Paper
When printing, it is always best to use high-quality paper. This will give you the best results and prevent any bleeds or smudges from occurring.
Tip 4: Choose the Right Settings
When printing, it is important to choose the right printing settings. This will ensure that your prints are of the best quality and are correctly formatted.
Tip 5: Store Your Printer Properly
Last but not least, it is important to store your printer properly. This will help prevent any damage from occurring and keep your printer in good condition.
We hope these printing tips will help you get the most out of your Canon Pixma-Pro 100 printer.
Frequently Asked Questions
Q: Does Canon Pixma pro 100 work with heavy card stocks?
A: Yes, the Canon Pixma Pro 100 is compatible with heavy card stock.
Q: Does Canon Pixma Pro 100 offer two-sided printing?
A: No, the Canon Pixma Pro 100 does not support auto-duplex printing.
Q: Is there a memory card slot on the printer?
A: No, the Canon Pixma Pro 100 does not have a memory card slot.
Q: What print technology does the Canon Pixma Pro 100 use?
A: The Canon Pixma Pro 100 is a professional wireless inkjet printer. It utilizes the optimum image-generating system to produce high-quality, life-like photos.
Q: Is Canon Pixma Pro 100 easy to use?
A: Yes, Canon Pixma Pro 100 is easy to set up and use.
Q: What is the maximum print size for the Canon Pixma Pro 100?
A: The maximum print size for Canon Pixma Pro 100 is 13×19", also known as A3+ size.
Q: How many ink cartridges does Canon Pixma Pro 100 use?
A: The Canon Pixma Pro 100 uses eight CLI 42 ink cartridges.
Q: Which is the best ink for Canon Pixma Pro 100?
A: if you are looking for cheap and affordable ink then inkjetcorner will be the best choice.
Q: How many paper trays does the Canon Pixma Pro 100 have?
A: The Canon Pixma Pro 100 has two paper trays. A rare single-sheet tray for fine-art paper etc., and another for thicker print media.
Q: What is the difference between Canon Pixma 100 and 100S?
A: The main difference between canon Pixma Pro-100 and 100-S is connectivity options. The PRO-100 includes a wireless LAN interface and the PRO-100S is fully Wi-Fi enabled and supports direct printing via Wi-Fi from smart devices.
Conclusion
The Canon Pixma Pro 100 is an affordable professional-grade printer designed to print exquisite photos. If you need to upgrade from a home printer to a better, high-quality wide-format printer, look no further and add it to your cart. You can print gorgeous patterns and images of A3+ size worth hanging in the photo gallery. Print your portraits, photos of your family, or eye-catching, long-lasting stickers.
The possibilities with the printer are unlimited. The only downside as per my experience is that the ink cartridges and printer paper are expensive, but looking at the beautiful, pro-quality image it produces, the cost feels justified. Overall, wireless connectivity, high print resolution, ease of use, and versatile media handling make this printer a worthwhile investment.
I am Mason, a Team Leader & Writer, a proactive and collaborative individual who works closely with my team to achieve shared goals. I am skilled in managing projects and am able to lead my team to success by setting clear expectations, providing guidance and feedback, and fostering a positive and productive work environment. I have a deep understanding of printers, sticker printers, label makers, sublimation, and craft markets, and use my knowledge to produce high-quality content that is both informative and trusted for the readers.