Why is Safe Printer Disposal Critical and How to Dispose of Old Printers in 2022?
A printer is a common and practical electronic device you will find in different environments like homes, schools, offices, etc. Whether you own a bulky laser printer, a lightweight, portable inkjet printer, a sticker printer, an all-purpose printer, or a single-function printer, you are going to have to dispose of it at some point. It may get out of order, or you may want to upgrade to the latest, more sophisticated model. Whatever the reason may be, you need to figure out responsible ways how to dispose of old printers. 
Why is Safe Printer Disposal Critical?
Disposing of an old printer appropriately and safely is crucial for several reasons. You cannot just throw it in a trash can. The toxic chemicals in printing ink and toner cartridges will spread perilous substances in landfills. Also, numerous states have strict regulations against improper disposal of e-waste. You may have to face a heavy fine for dumping your printer inappropriately. There have been instances when businesses had to pay a hefty fine for mismanaging electronic waste and damaging the environment.
Read Also: An Easy Guide About Printer Types and Features You Must Read Before Buying A Printer
What to Do with Your Old Printer?
As the world combats climate change, you can play your part by responsibly dumping your waste. We recognize the importance of educating people about the proper disposal of electronic devices. This article will point out the available resources that you could utilize for safe and convenient dispositions.
Here's how you can clear out your old printing machines in better and more constructive ways.
Recycle
Donate
Sell
Recycle Your Old Printer
Recycling your old printer is your best option. It has two benefits. You can prevent hazardous chemicals and substances from contaminating landfills and waterways. And, you can recover non-renewable materials such as aluminum, steel, copper, etc., and use them for making products. Recycling and reusing these materials consumes less energy than mining and processing them from the ground. 
How to Recycle Your Printer?
There are three ways you can recycle your printers.
Recycle It At A Retail Store
Several retail stores across the USA offer recycling programs. You can also check your nearest electronics and office supplies store. The best option is to take the printer to the retail store where you bought it. Retailers like Staples, Best Buy, Target, Office Depot, etc., offer hassle-free electronic recycling services. They accept your electronic devices free of cost.
They will disassemble your printer to harvest valuable material like plastic, etc., and re-engineer new products from them. These stores utilize certified recycling methods to appropriately recycle, break down, or restore different components within the device. We recommend reading the retailer's e-waste guidelines before passing your electronic device onto them.
Recycle At An E-Waste Collection Center
You can check whether or not your local recycling center accepts electronic devices. If not, you can locate an e-waste collection center in your area. You may find plenty of dedicated e-waste recycling centers to drop off your printer. Some of them may even offer to collect your old electronic devices from your home for a small fee. You can find recycling programs or private companies near you that accept old electronic devices through E-cycling central tool.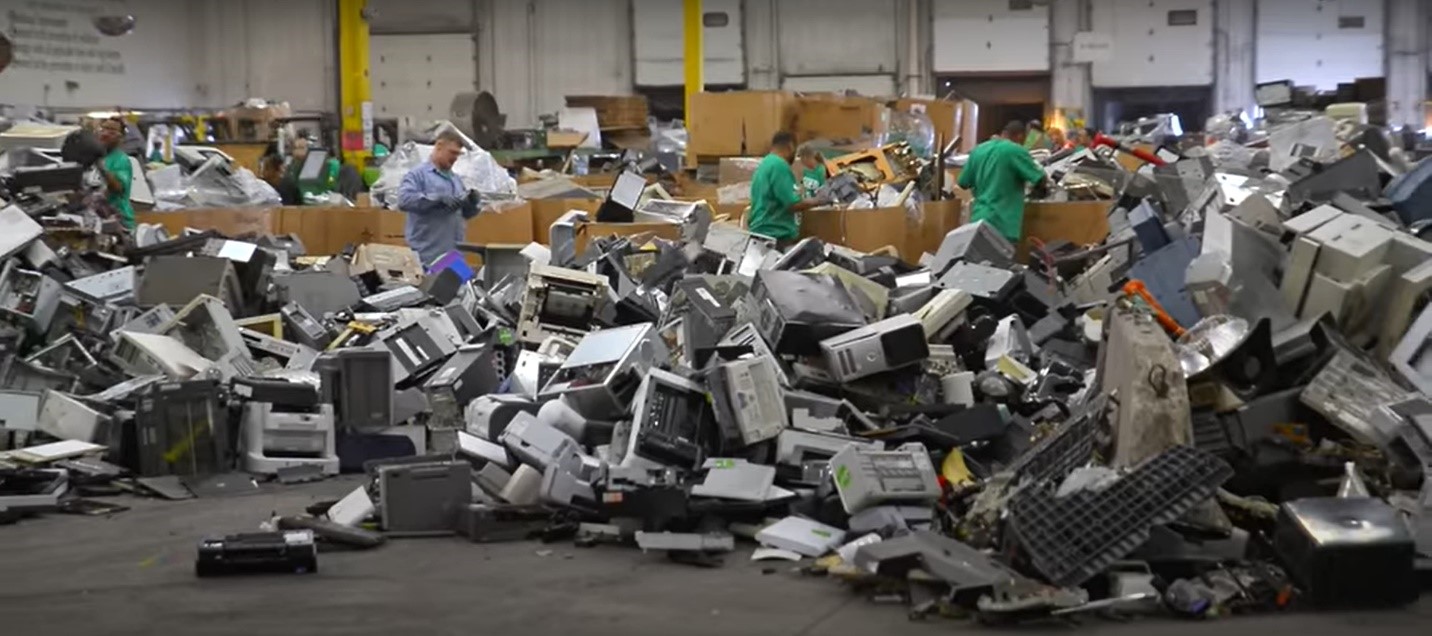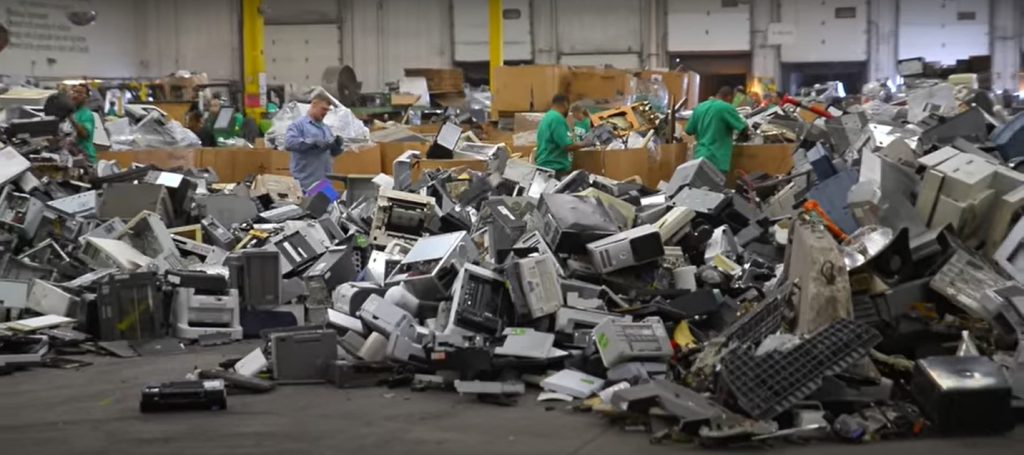 Recycling Old Printers at E-Waste Center
Recycle At The Manufacturing Company
You can contact your printer's manufacturer to check if they will accept your printer for recycling or buy-back offers. Many well-known printer manufacturers like Canon, Epson, HP, etc., offer these services. Some printer manufacturing companies may take your printer back if it is valuable for them.
They will offer cash in exchange for it. All you need to do is fill out an online form to have your old printer valued. While some brands may only offer recycling options for old printers.
How to Recycle Cartridges?
It is better to recycle ink or toner cartridges separately from printers. It is crucial to keep the ink out of landfills. You can recycle your print cartridges at the retail store from where you bought them. Several printer manufacturers also offer recycling services for cartridges. It is essential to drain the ink safely before breaking down the cartridges and recycling and reusing the components within them.
Donate Your Old Printer
We often switch our perfectly functional devices with newer, upgraded models. If you have bought the latest printer model and wondering what to do with the old one, you should consider donating it. Donating your printer will help someone put an old printer to good use and produce less waste in landfills.
Where to Donate Your Printer?
You can donate your old printer at any of the following:
Charity Stores
You can donate your old printer to a charity store near you. Charity stores have some specific programs for accepting electronics as donations. You can drop your printer off, or some charity stores might even pick it up for you. The printer has to be in good working condition if you'd like to donate it to a charity store. They might not accept an out-of-order, dysfunctional printer. Bonus: you may even get a tax write-off.
Non-Profit Organizations
Several organizations specialize in collecting electronics and delivering them to people in need. You can donate your old printer at any of the following reputable organizations:
World computer exchange distributes refurbished computers and peripherals to the youth in developing countries.
Pickup Please is an organization for veterans in the USA. They offer clothing, household supplies, and electronics. You can contact them to check if they would accept your printer.
Dell has a program called Dell Reconnect in collaboration with Goodwill. You can drop your printer off at any Goodwill location. They will refurbish or recycle it depending on its condition.
National Christina Foundation is an online website that connects donors and recipients.
These trustworthy organizations are suitable not just for your printers but for any other computer accessories you would want to donate.
Family, Friends, And Acquaintances
You should not limit yourself to donating printers to charitable organizations or schools. You can also donate them to a friend, family member, or acquaintance who could use an old device. You can use social media platforms to let the people around you know that you are donating a used printer so that the people in need may reach out to you.
Even if your printer is out of order, you can still donate it to an organization that accepts non-working electronic devices.
Sell Your Old Printer
If your printer is functional and in good condition, you can sell it through different platforms. Here's how you can do that.
Sell It At A Repair Shop
You can sell your used printer at a repair shop or an electronic store that buys, refurbishes, and resells used products. Some stores may offer cash in exchange, while others may provide a discount coupon for purchasing a similar device. You can also sell your old printers through reliable websites like Printers-Jack.com or SellYourPrinters.com.
List It On A Digital Marketplace
You can list your printers on e-commerce sites like eBay, Amazon, Bonanza, Craigslist, etc. Make sure to take a photo of your printer and mention its technical specifications in the listing. It is also essential to clarify any functionality issues or broken components concerning your printer. You will find many buyers interested in purchasing dysfunctional printers. To get an idea of pricing, you can check other similar listings.
Advertise It On Social Media
Social media channels such as Facebook, Twitter, Instagram, etc., can be valuable forums for selling electronic devices. There are dedicated buying and selling groups that people use for selling used items. Post a photo of your printer along with the details. Remember to be honest about the condition and utility of the printer.
Final Words
Proper printer disposal is critical. Throwing it in the trash can is not just harmful but could also lead to serious legal repercussions. If your device is in mint condition, don't let it sit on a desk to gather dust. Sell it or donate it to someone who cannot afford a new printer. If your printer is dysfunctional, recycle it. With all these convenient methods of disposing of electronics, printer disposition shouldn't be a hassle.
I am Mason, a Team Leader & Writer, a proactive and collaborative individual who works closely with my team to achieve shared goals. I am skilled in managing projects and am able to lead my team to success by setting clear expectations, providing guidance and feedback, and fostering a positive and productive work environment. I have a deep understanding of printers, sticker printers, label makers, sublimation, and craft markets, and use my knowledge to produce high-quality content that is both informative and trusted for the readers.