How To Make Art Prints At Home in 2022 (An Easy Guide)
Fine art prints are gaining popularity as they are a cost-effective solution for sharing your artwork with the world. If you want to sell your paintings or drawings on Etsy or other digital marketplaces, you can print them on-demand, so you would not have to reproduce the artwork repeatedly, which can be expensive.
You can also frame your art prints and hang them on the walls to decorate your home or studios. Although, you can take your paintings to a print shop and get professional art prints. But, you can print them at home for much less with a few supplies. You can save money and have more control over the entire end-to-end process. So be ready to know step by step about How to make art prints at home.
However, printing artwork is not an easy task. The prints must be high-quality and professional-looking for you to use them as an alternative to your paintings. In this article, we will walk you through the process of creating art prints at home and share some tips and tricks that will help you achieve quality prints that look exactly like your artwork.
Gather Your Supplies
The equipment and material you need to make your art prints at home are affordable and easily available. You might already have some or all of these things at home. To make quality art prints, you need the following supplies and devices:
Once you have everything you need, it is time to start creating art prints from the comfort of your home.
Scan Or Photograph Your Artwork
Making a high-quality digital file of your painting is critical to ensure the quality of your prints. The digital file of your artwork must have a minimum resolution of 300 DPI. Higher resolution translates to higher quality artwork in digitized form. With a high-res digital image, you can create physical prints of your artwork in large sizes.
A scanner could work perfectly for anything smaller than or equal to A3 size. Make sure you use a scanner that delivers high-resolution results, such as a drum scanner or a professional flatbed scanner. The painting must be dry, and there should not be any dust particles or eraser residue. Also, wipe the scanner with a soft cloth. It has to be clean before you scan your artwork.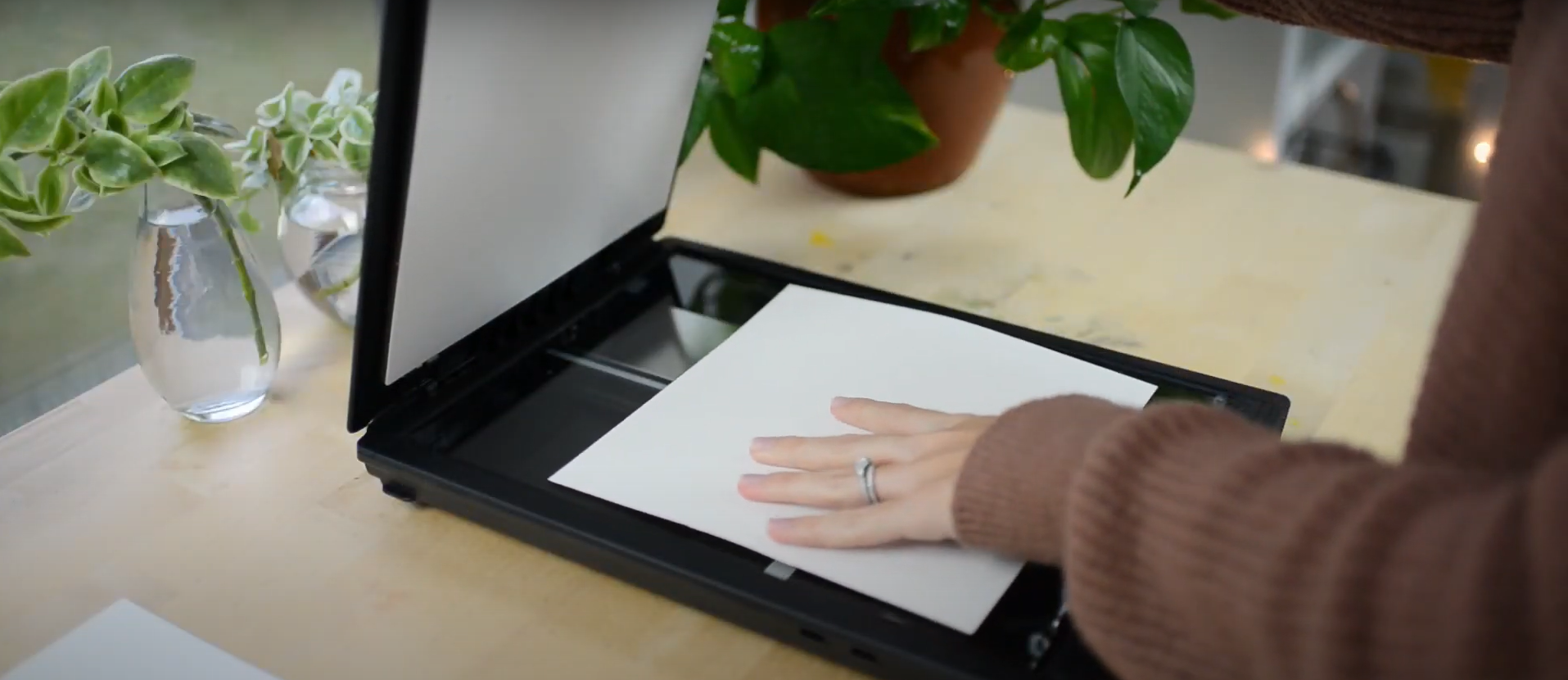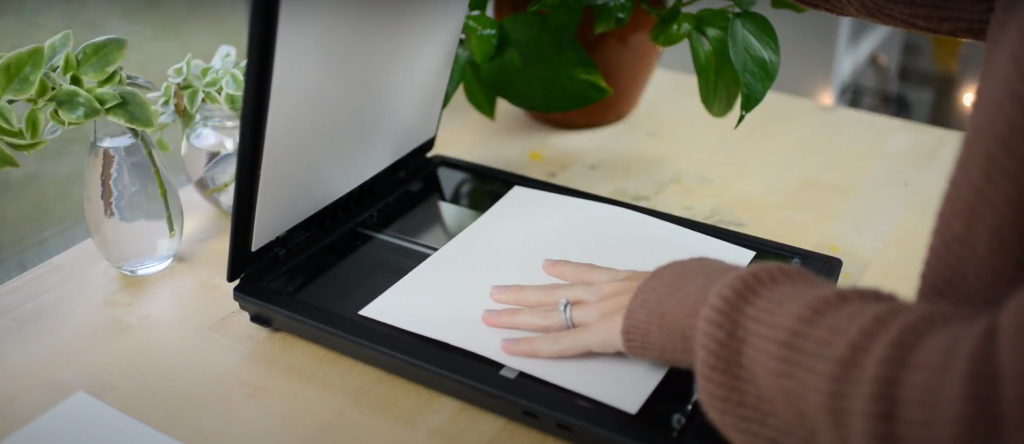 Paintings wider than the standard 13×19-in size will not fit into a scanner. You will need a professional digital camera to photograph them. Using a smartphone camera is a big NO. Through a DSLR, you will get an accurate depiction of your artwork in the digital file. Photographing a painting, however, is not easy.
Do not forget to adjust the lighting and camera settings accordingly to capture accurate details and color precision. Also, if you have the budget for it, we recommend you use professional lighting equipment and a tripod for best results. If buying a lighting kit is not an option, you can use a white sheet to diffuse the light.
Edit Your Scanned Art
Whether you use a high-quality professional camera or a high-resolution scanner, you are still going to need photo editing software to make your print look as close to the artwork as possible. The digital image you have produced may look slightly different from the original painting or watercolor drawing.
Use quality photo editing software like Photoshop, Krita, or Gimp to adjust the color saturation, brightness, saturation, contrast,  vibrance, and other details that you feel different from the artwork. You can modify the color settings to have a warmer or cooler tone depending on what you need in your fine art print.
Preview the image before printing it to know which areas require retouching. You might also need to resize, crop, or rotate the file. The best part about this step is that you can analyze your creation closely and add or remove details you might have missed earlier. Also, you can make your art prints in different sizes by changing the image size. For example, if you want to make 8 x 10 in art prints, adjust your image and canvas size to 8 x 10 inches.
Which Paper Should You use to Print your Artwork?
When selecting the print media, consider its impact on the end results. The painting may look different on different print paper types. Some print papers are more ink absorbent, so the image might not look as bright and vibrant as it would on other print papers. If you choose appropriate media, your artwork will look crisper.
For instance, if you are looking to print a watercolor drawing, it is best you use watercolor paper. You can also try printing your artwork on different media to determine which print looks the best. Since you are the artist, you can better decide which printing media makes your art look crisper and more authentic.
Generally, acid-free, semi-gloss archival paper is the best for printing artwork. It is resistant to sunlight and also quite economical. There are different finishes to choose from, gloss, matte, semi-gloss, semi-matte, etc. Also, the weight of the printing paper is another critical element. 130-170 grams of paper is suitable for leaflets etc. While heavier 200-250 grams paper is more appropriate to print high-quality magazines and brochures.
Print Your Artwork
The final and most crucial step is to print the artwork. You have to choose everything carefully, from paper to printer. A professional, high-quality inkjet photo printer is essential to reproduce artwork images. It should support thick archival input paper and print large 13×19" photos.
The more ink colors it uses, the better. You can not produce quality art prints with a printer that uses four ink cartridges, especially if you intend to sell them. Pigment-based inks are more appropriate for artwork prints as they help generate quality outputs. You may get vibrant, high-resolution images with dye-based inks, but they will not be as durable as pigment-based inks. The colors might start fading in a couple of years.
It is advisable to print a few test prints until you get that perfect art print. There will always be a difference of colors between the monitor preview and the actual printout because the computer monitor uses an RGB color scale while the printer uses CMYK. Through proof printing, you can see the difference and readjust the colors, brightness, saturation, etc., with the editing software. Once you are happy with the image quality, you can print your final print batch.
Remember to select the print media you are using from the printer settings. It will make your prints brighter, clear, and more detailed. Avoid touching the paper a lot, as the natural oils from your fingers could ruin the print quality. Your artwork prints are ready. Let them dry for at least a day before packing or framing them. You can attach your images to a backing board to protect it from smudges or getting wrinkles.
NOTE: An important thing to note is that you cannot recreate an exact replica of your artwork. You are reproducing the image with a scanner/camera and a printer. It is okay if you do not get one hundred percent accurate details in the printout. The goal is to produce an art print that looks as close to genuine artwork as possible. Proof printing several times will help you get the closest-to-real depiction of your painting.
Conclusion
Making your artwork prints at home by yourself can be a fun experience. It gives you more control over the process and a sense of accomplishment. Though you may take a while to get familiar with the process, once you adjust to it, you will be making multiple artwork prints on a regular basis. You can get art print ideas. We hope the article helps you create high-quality copies of your art that you can share with your loved ones as a gift or even sell to increase passive income.
I am Mason, a Team Leader & Writer, a proactive and collaborative individual who works closely with my team to achieve shared goals. I am skilled in managing projects and am able to lead my team to success by setting clear expectations, providing guidance and feedback, and fostering a positive and productive work environment. I have a deep understanding of printers, sticker printers, label makers, sublimation, and craft markets, and use my knowledge to produce high-quality content that is both informative and trusted for the readers.